30 Birds
Addendum
Links * Contact Us * Author profile * Extended TOC

Some links of interest
A Beginner's Guide to Dating a Birder
Difference between Bird Watching and Birding
Jason Ward, Birder
A feminist revolution
Hummers
Teddy Roosevelt's White House birdlist
A president bags a lifer
FDR, birder
Thomas Jefferson's life list (.pdf file)
List of Birdwatchers
Chicago Botanic Garden


Contact Us
Our email address is 30birdsbook@ and then gmail.com For offers and inquiries about placing ads here, put just the one word "Advertising" in subject line. Cheers.

Author profile
Hardy is the son of a well-regarded photog for the Chicago Tribune and a very well-read school secretary who once dreamed of being the first blonde flamenco dancer of Nordic extraction. His good fortune was to benefit exceedingly from the providence of scholarships: B.A. Stanford, PhD Princeton, J.D. Yale Law, Fulbright Scholar, Oxford. He ended up in Washington, DC, pursuing the public interest, eventually in the form of the conservation of biodiversity, beginning with a then diminutive organization none of his friends had heard of, The Nature Conservancy. He learned taxonomy and computer technology and was on a team which developed and propagated the Natural Heritage Program/Conservation Data Center network, planting the programs permanently in state governments, all fifty of them (plus Canadian provinces and parts of Latin America). It was in the course of this, and with the help of fellow conservationists, that he took up the pursuit of birds, something for which he is forever grateful. He then launched out in new directions, one of which was setting up a new organization to extend the network to China and perhaps other parts of Asia. See biodiversityconservancy.net and his book Green Lake: Reflections from the Surface of China, for more.

Venice Yunnan Burma, with Ernest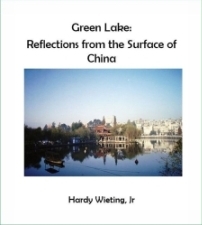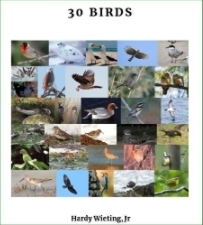 Extended Table of Contents Subjects List
Preface
1/ Irresistible Lemmon: Red-faced Warbler
Theodore Roosevelt Island, Brigantine National Wildlife Refuge, Scott Mills, Mount Lemmon, American Bird Conservancy, Catalina Highway, Mount Lemmon Highway, General Hitchcock Highway, Arizona Forest Highway 39, Sky Island Scenic Byway, Oracle, Arizona, Frank Harris Hitchcock, Teddy Roosevelt, Japanese American internment camps, Gordon Hirabayashi, US Supreme Court, Sonoran Desert, Coronado National Forest, Hoodoo, Bear Wallow Spring.
2/ Above and Above: White-tailed Ptarmigan
Guanella Pass, Rocky Mountains, Colorado, Mount Evans, krummholz, Robert Chipley, John Humke, Larry Master, porcupine, deer mouse, feathered feet, Bighorn Sheep, social learning and communication, Trail Ridge Road, Brown-capped Rosy Finch.

3/ Masked Sibilicide: Masked Booby
Dry Tortugas, Hospital Key, Fort Jefferson, sibilicide, Blue-footed Booby, David J. Anderson, prisoner's dilemma, bloodfeeding, beakfencing, Brown Booby, Monterey Bay, Great White Fleet, Midway island, Santa Cruz, California.
4/ On the Border: Hook-billed Kite
Olive sparrow, Clay-colored Robin, Edwards Plateau, Texas, Hill Country, Rio Grande, Comanche Springs, San Felipe Springs, Lyndon Johnson, Robert Caro, isohyet, 98th Meridian, US-Mexico border,

5/ Visiting Nobility: Whiskered Tern
ABC Evening News, New York Times, Little Creek Wildlife Area, Delaware, Forster's Tern, Black Tern, Dan Canterbury, Attu, Aleutians, Gambell, St Lawrence Island, range map.
6/ Walking on Water: Leach's Storm-petrel
Saint Peter, Jesus, lizard, Black-capped Petrel, Bulwer's Petrel, Stan Walens, Texaco, Rhinoceros Auklet, Jon Dunn, marlin, flying fish, William Elford Leach, Louis Jean Pierre Vieillot, Mother Carey's Chicken, Wilson's Storm-petrel, Baccalieu Tickle, Monophysitism.

7/ Contented Hog: Gray Hawk
Simon Schama, George Parkman, John James Audubon, John Webster, Golden Eagle, George Cuvier, Ernst Mayr, Philippe Pinel, raptor, bird of prey, buteo, accipiter, hot stinking desert, The Thing, prehistoric tortoise, black velvet art, Common Black Hawk, The Nature Conservancy, Muleshoe Ranch, Arizona, black mesquite, Wile E. Coyote, the Roadrunner, glint in the eye.
8/ Restricted Diet: Snail Kite
Everglades, Florida, Tamiami Trail, Miccosukee tribe, Alligator Alley, Lake Okeechobee, Loxahatchee, affiliate species, Annie Dillard, An American Childhood, Florida 997, James Lanes, Samuel Eliot Morrison, Indian removals, Cherokees, Winfield Scott, Seminoles, Osceola, Elvis, Burmese python, Cape sable seaside sparrow.

9/ Marineland: California Gnatcher
Palos Verdes, California, Marineland, American Ornithologists' Union, National Geographic guide, Sibley guide, Marine Corps Camp Pendleton, Pacific Coast Highway, Bronzed Cowbird, nest parasitism.
10/ Carderock: Barred owl
Shelby Foote, The Civil War documentary, Carderock, Maryland, Chesapeake & Ohio Canal, C&O Canal, David Taylor Model Basin, Naval Surface Warfare Center, Betty Holberton, COBOL, ENIAC, Bernard Malamud story "Angel Levine", Zero Mostel, Harry Bellafonte, Shindelman, David Wilcove, Edward Howe Forbush, Karel Voous, Isidore Geoffrey St-Hilaire, Tytonidae, Strigidae, James R. Duncan, Katherine McKeever.

11/ Valhalla: Black Swift
Stephen Maturin, G. Evelyn Hutchinson, François Leguat, Huguenots, babirussa, bird's nest soup, Wilhelm Meise, Chimney Swifts, Common Swift, David Attenborough, Peterson guides, Elliot Kirschbaum, Rocky Mountain National Park, Loch Vale, Bear Lake, Valhalla, Yosemite National Park, Chief Tenaya, Tenaya Canyon, John Muir, Jeanne Carr, Ahwahneechee, Jared Diamond, Mariposa Brigade, Lafayette Bunnell, Cooper Ornithological Club, Charles W. Michael, SORA project, Samuel F. Rathbun, White-throated Swift, Patrick O'Brian, Master and Commander novels.
12/ Hammering: Nuttall's Woodpecker
Thomas Nuttall, Benjamin S. Barton, Philadelphia, Andrew Weil, M.D., botany, J.K. Townsend, William Gambell, Elliott Coues, Irvine Park, Orange, California, orange groves, Chicago, Lake Michigan, plane trees, sycamores, Acorn woodpeckers, nest holes, drumming, zygodactyl feet, The Nature Conservancy, Big Morongo Preserve, John Fitzpatrick, Yellow-breasted Chat.

13/ Penelope: Eurasian Wigeon
Joel Hornstein, Birding magazine, Gray Lodge Waterfowl Management Area, California, Keith Carr, Mashomack Preserve, Shelter Island, Cape May Point State Park and Natural Area, Homer, Odysseus (Ulysses), Penelope, Linnaeus, James Jobling, B.C. Livezey, dabbling ducks, Anatidae, Anatinae, Marbled Duck.
14/ Bahamas Bird: Stripe-headed Tanager (Western Spindalis)
Florida City, Florida, Bill Robertson, Homestead, Redland area, Bischofia tree, Great-crested Flycatcher, James Bond, Bahamas, Scarlet Tanager, Hepatic Tanager, M.L. and P.R. Isler, T.C. Moermond, Alexander Skutch, Dana Gardner, Thraupidae, Cardinalidae, Western Spindalis,

15/ Burrow Bird: Black-vented Shearwater
Jon Dunn, Western Field Ornithologists, Common Dolphins, Manx Shearwater, Kilauea Point National Wildlife Refuge, Puffinus.
16/ Percy Bysshe: Eurasian Skylark
Clive James, Mark Twain, Percy Bysse Shelley, Lord Byron, Oxford, Mary Wollstonecraft, Frankenstein, Newark, New Jersey, Flatbush, Long Island, British Columbia, Vancouver Island, Canada, Hawaii, Oahu, Kauai, Molokai, Lanai, Maui.

17/ Pawnee: Lapland Longspur
Pawnee National Grassland, Pronghorn Antelope, Smith's Longspur, Chestnut-collared Longspur, McCown's Longspur, Hotspur, English sparrows.
18/ On the Rocks: Rock Sandpiper
West Cliff Drive, Santa Cruz, California, Westport, Washington, Stephen Gerow, Bottle-nosed Dolphin, Harbor Porpoise, Purple Sandpiper, David Schneider, Grace's Warbler, Elliot Coues, Calidris, Darwin, Wallace, Huxley, Frank Chapman, J.A. Allen, Fort Whipple, Arizona, Prybilof Islands, Spencer Fullerton Baird, Thomas Mayo Brewer, oology, English sparrows, Sparrow War, Theosophy, Pacific Ave.

19/ Marathon: Antillean Nighthawk
Dan Canterbury, Marathon Key Airport, Robert Is Here, Common Nighthawk, Edward Hopper, Florida Keys, Caprimulgidae, Chordeiles, Common Poorwill, Hibernation, Alexander Skutch, Edmund C. Jaeger, Chuckwalla Mountains, James Lane bird finding guides, Robert Moehling.
20/ Well-loved: Tricolored Blackbird
Charles Darwin, H.M.S. Beagle, Red-winged Blackbird, Cal Central Valley, Lake Sherwood, Santa Monica Mtns, Harbor Regional Park, Audubon Soc Call chapter, San Bernardino Audubon, US Fish & Wildlife Service, UC Davis Portal, Johnson Neff, Gordon Orians and Robert Payne, Frederick Crase and Richard DeHaven, Edward Beedy and William Hamilton, Merced county farm mowing.

21/ Alas, Lost Cousin: Canary-winged Parakeet
Frederick Jackson Turner, Passenger Pigeon, Cincinnati Zoological Gardens, Martha, General Grant, Delmonico's, Carolina Parakeet, Incas, Jefferson and Adams, Grzimek's Animal Encyclopedia, Otto Koehler, Perzina, Changsha, Hunan province, Irene M. Pepperberg, Alex Gray Parrot, The Expression of Emotions in Man and Animals, Florida Scrub Jay, parakeeto, Thick-billed Parrot, Miami Springs, Kendall, Mitred Conure, Blue-crowned Parakeet, Red-masked Parakeet, Bill Robertson, Glen Woolfenden, Psittacidae, State Natural Heritage Programs, Monk Parakeet, Phil Caidin, Holland E. Shaw, Resurrection.
22/ Bombay Hook: Sharp-tailed Sandpiper
Bombay Hook National Wildlife Refuge, supercilium, Pectoral Sandpiper, Siberia, polygyny, breeding display, Civilian Conservation Corps, CCC, FDR, tree-planting, John W. Fitzpatrick, Nathan R. Senner, shorebirds, extinction crisis, Hudsonian Godwit, Bar-tailed Godwit.

23/ Back Bay: Long-billed Curlew
Newport Beach, California, Orange county, Back Bay, marsh, mating behavior, George H.W. Bush, Bill Clinton, Candlestick Point.
24/ Unexpected Popup: LeConte's Sparrow
Traverse City, Michigan, Robert Chipley, Kirtland's Warbler, Mackinac Bridge, Upper Peninsula, Hiawatha National Forest, Trout Lake, birch, aspen, La Du Flambeau, Wisconsin Glacial Episode, Larry Master, Dave Evers, Whitefish Point Bird Observatory, Philip Chiu, Joseph LeConte, John LeConte. John Lawrence LeConte, John Eatton LeConte, Nature's Neighbors, Manitoba Naturalists Society, allaboutbirds.org,

25/ Presidio: Lawrence's Goldfinch
American Goldfinch, Lesser Goldfinch, Don Roberson, Tularcitos Ranch, birdingonthe.net, Mike Wald, Presidio, San Francisco, Quail Commons, National Park Service, Red-shouldered Hawk, Pebble Beach, Brian Sullivan, George Newbald Lawrence, D.G. Elliot , The Auk, John Cassin, Fred Funston, Woggle-Bug, Juan Bautista de Anza, José Moraga, John C. Fremont, Daniel Sickles, Philippine-American War, Aguinaldo, San Francisco Earthquake, Eda Funston.
26/ Little Creek: Curlew Sandpiper
Russia, International Union for the Conservation of Nature, IUCN, Delaware, Port Mahon Road, Little Creek Wildlife Area, molting fall adult.

27/ Tiger Creek: Short-tailed Hawk
Florida, Jensen Beach, Indian River, Lake Wales, Caracara, Kissimmee River, The Nature Conservancy's Tiger Creek Preserve, Don Ford. Steve Morrison, Steve Shettler, Florida scrub, scrub lizard, blue-tailed mole skink, Beckner's lupine, pygmy fringe tree, Avon Park Bombing Range, Clarice Ford, Sharla Shettler, Dothan, Alabama, procoracoid foramen.
28/ Taxonomic Birding: Red-naped Sapsucker
Taxonomy, splitting, lumping, Roger Tory Peterson, life list, Carolus Linnaeus, Carl Linnaeus, Carl von Linné, Carolus a Linné, Carl Linné, Linnaeus, Celsius, George Clifford, Haarlem, Jan Fredrick Gronovius. Gaspard (Caspar) Bauhin, Johann Siegesbeck, harlotry, Ernst Mayr, Systema naturae, essentialism, nominalism, biological species concept, Yellow-bellied Sapsucker, Red-breasted Sapsucker, Rocky Mountain National Park, Paul Ehrlich, Gretchen Daily.

29/ Deceiving Appearance: Kelp Gull
St. Mary's county, Maryland, Seabreeze restaurant, Washington Post, Waterbirds, Herring Gull, Pierre-Yves Henry, Jean-Christophe Aznar, National Geographic, Austin Gallagher, Cape fur seals, Right whales, Patuxent River, Isle of Wight, the Ark, the Dove, St. Clement's Island, Lord Baltimore, toleration, Sotterley, Blakiston Island Light, Civil War, United States Colored Troops Memorial Statue.
30/ Florida Canyon: Rufous-crowned Warbler
Alexander Skutch, Guatemala, Costa Rica, Florida Canyon, AZ, fracking, Montezuma quail, Santa Rita Lodge, Madera Kubo Cabins, turkeys, Broad-billed Hummer, Painted Redstart, Mexican Jay, Yellow-eyed Junco, Rufous-backed Robin.

Bonus/ White-winged Tern
Delaware, Horseshoe crabs, Red Knot.


This is not a secret to anyone: "As an Amazon Associate I earn from qualifying purchases." But it is required. Visitors here should also know several other things: it's a rare event,, and any earnings will basically support the work of my conservation NGO (see
BioDiversity Conservancy
). Hope the eccentric product choices you see here are of interest.